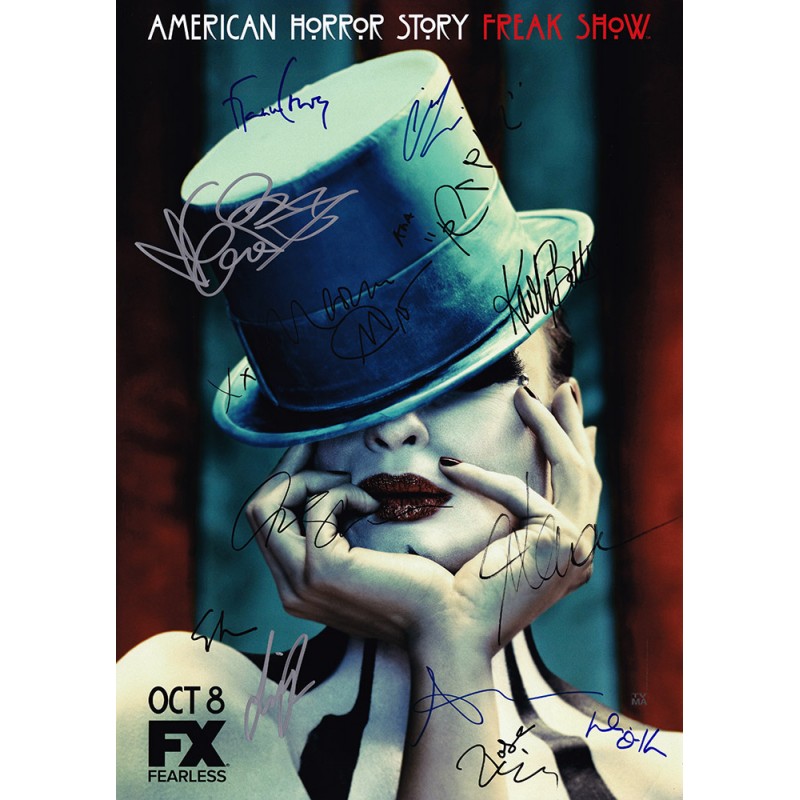  
American Horror Story Freak Show
11x17 Inch TV Series Poster Autographed by Cast
Security policy
All payments are secured and processed by STRIPE.
Delivery policy
Return policy
Satisfaction guaranteed or your money back.
POSTER DOCUMENT No. 34347MPTV autographed by Evan Peters, Sarah Paulson, Emma Roberts, Denis O'Hare, Lily Rabe, Frances Conroy, Naomi Grossman, Christopher Neiman, Rose Siggins, Angela Bassett, Kathy Bates, and Jessica Lange.
A lifetime Guarantee is provided with the COA and letter of authentication and signature analysis that accompany this item.

CONDITION, NM -Near Mint
Poster approximate measurements 11.7 x 16.5 inches. Space efficient and the perfect size to frame inexpensively.
These posters are easier to handle at signing events and as such, wear around marks are kept to a minimum. This poster has been stored in archival corrugated carton box in a dark clean environment, avoiding exposure to florescent lighting and natural sunlight. This item has been carefully inspected and it is free of pin holes, tape marks, tears, and rips.

FRAMING: Professional framing is recommended for this item. Measurements are not exact and standard store frames will very rarely be a good fit for your memorabilia.
When displaying your memorabilia, always use acid free mats and the right picture frames. But most importantly, always use a UV filtering glazing such as Acrylite OP3.
Acrylite OP3 and Acrylite OP3 P99 extruded are premium picture framing materials, developed to meet the special needs of the memorabilia picture frame industry.

Below you will find our recommended UV Filtering Glazing Types.
Acrylite OP3 UV protective acrylic filters that protect 98 per cent of damaging ultraviolet rays.
Acrylite OP3 P99 Combines Both Non Glare and UV Filtering characteristics.

It is important to note that OP3 P99 non glare finish appears hazy until it is placed directly on top of the piece of memorabilia. Once in place, the image will become clear with a non glare finish.

If at all possible, best avoid direct sunlight and exposure to florescent lighting.
Data sheet
Property

11x17 Inch Promotional Poster
4 other products in the same category: