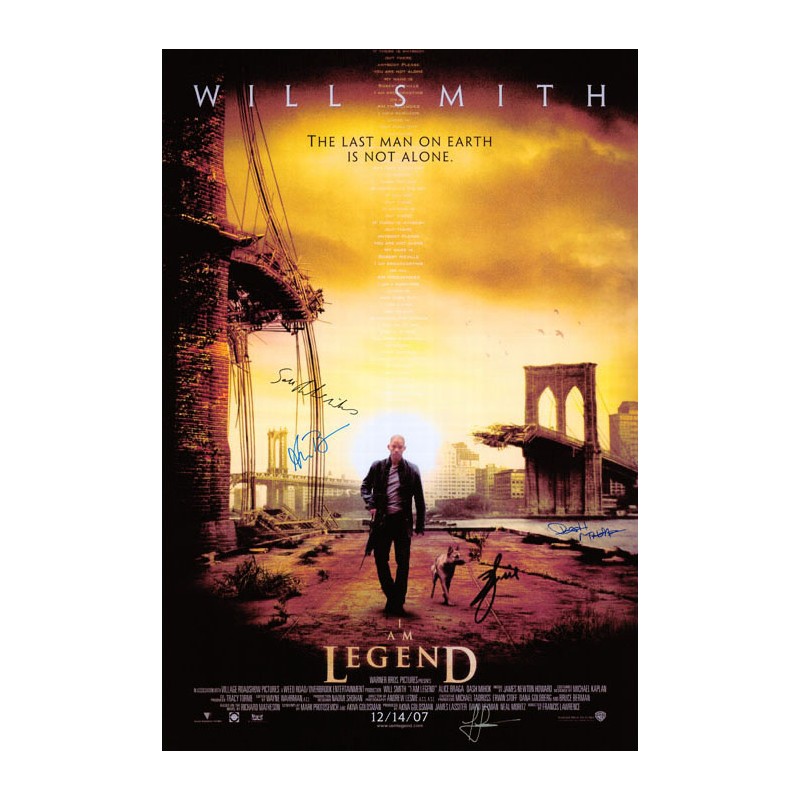  
I Am Legend
24x36 Inch Autographed Movie Poster Signed By Cast
Security policy
All payments are secured and processed by STRIPE.
Delivery policy
Return policy
Satisfaction guaranteed or your money back.
POSTER DOCUMENT No.20228STMO autographed by Will Smith, Alice Braga, Salli Richardson-Whitfield, Dash Mihok, and director Francis Lawrence.
Item Condition: NM Near Mint
Shipping Method: Rolled
A lifetime Guarantee is provided with the COA and letter of authentication and signature analysis that accompany this item.
ITEM CONDITION: VG to Excellent
This item has been stored flat at optimal conditions; such as clean air, in a smoke-free, dust-free environment.
The edges of the poster have no tears or rips. Its surface is free of stains, pin holes, and tape marks.
NOTE: Poster has normal wear-around marks and may have some minor creases.
These items travel, normally, to more than one event as they are being handled by the celebrities and personnel
When displaying your memorabilia, always use acid free mats and the right picture frames. But most importantly, always use a UV filtering glazing such as Acrylite OP3.
Acrylite OP3 and Acrylite OP3 P99 extruded are premium picture framing materials, developed to meet the special needs of the memorabilia picture frame industry.
UV Filtering Glazing Types:
Acrylite OP3 UV protective acrylic filters that protect 98 per cent of damaging ultraviolet rays.
Acrylite OP3 P99 Combines Both Non Glare and UV Filtering characteristics.
Note: OP3 P99 non glare finish appears hazy until it is placed directly on top of the piece of memorabilia. Once in place, the image will become clear with a non glare finish.
If at all possible, best avoid direct sunlight and exposure to florescent lighting.
Data sheet
Property

24x36 Inch Promotional Poster
4 other products in the same category: